Leagues O'Toole is a Dublin-born journalist and broadcaster, best known for his RTE television program, "No Disco." In 2003, he made a critically acclaimed documentary about Planxty, an Irish folk band that became the subject of his first book, The Humours of Planxty. He is currently the editor of the magazine Foggy Notions and produces radio programs for Today FM.
John Cowhie is a Dublin-based folk musician who also makes photographs, hence his contribution. Most friends refer to him as "Goodtime John."
-----
Hartigan's pub on Leeson Street is a bizarre place. Not only because it sits like a cold, hollow, sober kitchen on a strip once both celebrated and ridiculed for its after-hours sleazy cellar club debauchery, where well-heeled suits and well-oiled mistresses nuzzled over extortionate bottles of plonk, but also because it is completely void of any of the trappings of the modern pub.
You can forget about seductive lighting and intimate seating arrangements – stark white-washed stone walls re-create the mood of a country parlour. There are no distractions. A friend of mine who studied Engineering in U.C.D. dragged me along here one night many, many years ago, excited for me to witness first-hand the hardened lady of the house chastise patrons who didn't have a pint in front of them. I've also heard stories of her berating customers for using mobile phones instead of the old style payphone screwed to the wall. One can only applaud such extreme antiquated attitudes in this age of privilege. She's not here tonight, but I'll never forget her crazy eyes. Instead, a younger red-haired man stands motionless behind the bar. He says not one word to us, nor emotes any form of gesture, smile or facial tick the entire time we're here, which is especially odd seeing as though we are, in fact, the only people in this room with him. It's very creepy. I'm convinced he's a member of the family. Anyhow, the four of us sit in a row at the bar, with our four pints of Guinness and our four bags of Tayto cheese and onion; it's quite a picture. We sit in silence, containing our sniggers in this awkward atmosphere.
Why bother, you might ask? Two reasons: firstly, Hartigan's serves one of the best pints of Guinness in Dublin. The very best in Dublin according to Eamon [who would have previously declared Mulligan's of Poolbeg Street as home of the best pint of Guinness in the city]. It has five Guinness taps and the word on the street is that the lines are cleaned regularly to ensure a smooth, creamy pour. Secondly, Hartigan's is a curio, a dying breed, a traditional family-run country-style pub with a no frills attitude and some serious eccentricities. Eamon swears it has a connection to the "He blew his mind out in a car" line from "A Day in the Life", but he can't remember the exact details of the story/myth.
A completely different atmosphere resides at O'Donoghue's just five minutes around the corner on Merrion Row in Dublin's business district. Today the pub is full of German tourists in expensive waterproofs and Aran sweaters mulling over half-glasses of Guinness and clutching expensive digital cameras, but the walls tell a different story. Back in the ownership of Paddy and Maureen O'Donoghue in the 60s and 70s, the sloping Liscannor flagstones and bruised mahogany bar played host to some of the most celebrated musical minds in the country. Behemoths such as singer Joe Heaney and the great piper, storyteller and archivist Séamus Ennis were kept in soup and stout as they entertained onlookers. A cacophony of fiddles and banjos, uileann pipes and tin whistles filled the air almost every night. The Dubliners formed here. Christy Moore reveled within these walls in his drinking days. And itinerant folkies such as Johnny Moynihan and Andy Irvine lived it up between jaunts around the country with Sweeney's Men. Today, the pub is shrine to that era. The walls are plastered with precious memories, yellowed newspaper clippings and tarnished photographs. The musical tradition has been upheld, but it's merely a polite afterthought to wild days of yore. Still, the three musicians huddled in the corner are excellent, and when the lady sings "I hope the scorching sun doesn't burn his beauty," it sends a melancholic shiver down my spine. If only we'd been privy to this musty old room forty-odd years ago. The pints were decent. Captivated by the atmosphere and sense of history, we opted for Guinness again, despite the fact that we promised ourselves that we'd mix it up.
Paddy and Maureen very, very sound
Though she liked to camp on the moral high ground
If you had long hair you were outward bound
Go down you blood red roses.
Ronnie Drew in his fine suit of blue
And a voice like gravel that would cut you in two
We thought he was Dublin through and through
But he blew in from Dun Laoghaire
Joe Ryan and John Kelly in the front bar, their fiddles are from the County Clare
Joe Heaney sings in the cold night air
In the laneway after closing
Sea Shanties in perfect tune
And Séamus Ennis in the afternoon
It was all over much too soon
Days of wine and roses
Banjo Barney calling the tune, Mary Jordan's a whizz on the spoons
Up the Swannee and Down the Broom
Barney's rising to it
They carry him bodily out to the jacks
He empties his bladder and they carry him back
He lowers a pint and he's right back on track
How the fuck does he do it?
In the afternoon you might find there
Luke Kelly and his banjo and his red hair
O what a time what an atmosphere
What more could a young man wish for?
How I'd spend my time was never in doubt
This is what life was all about
A bowl of soup and a pint of stout
Agus fáigamíd siúid mar a tá sé
One night drinking in Dublin is only the tip of the iceberg. We find ourselves constantly bemoaning the lack of good pubs and the dearth of traditional convivial atmosphere since Dublin was gripped by the Celtic Tiger economic boom some 15 years ago, yet when we go looking we find a wealth of forgotten old shops, the sort of places we pass by every day of the week when we're preoccupied with the business of everyday life. It seems Dublin isn't just all about trendy café bars, super-pubs, sports bars, and American-themed shit-holes like the Hard Rock Café or Thunder Road.
Up the road from O'Donoghue's we journey towards The Baggot Inn, an iconic location in the Irish rock boom of the 1980s when a plethora of U2 sound-a-likes got down in their best leather waist-coats to impress the local liggeratti. That said, there's been some awesome shows there through the years (Fatima Mansions, Killdozer, Huggy Bear) and it holds some special memories for me. The Baggot was left behind by a new generation of live music venue in the late 90s. Now it's reopened as a bar and nightclub with a novelty dimension. Customers can sit at tables fitted with beer taps and pull their own pints all night. We're giddy with anticipation at the prospect of this, but our enthusiasm is quashed when we realise this place doesn't open on a bank holiday Monday.
In case you're wondering, Monday night is a good night to go drinking in the city. Fridays and Saturdays are overrun with coked-up teenagers on the pull, downing round after round of Jagerbombs (Jägermeister + Red Bull = lethal) and going completely insane. Monday night is more of a drinkers' night, when the dust has settled after the weekend and a relative sense of tranquility presides over the city pubs.
With our hopes of playing barman dashed, we retreat to Toner's, another Baggot Street hostelry. A fine place it is too. It is one of the few Dublin pubs that still has a snug, which for those who don't know is a small private area, usually with a door and frosted glass windows where those who don't care to be exposed to the general clientele of the pub can enjoy a quiet drink or clandestine rendezvous. One of the essential aspects of a good Irish bar is the actual bar area itself, and Toner's is excellent in that respect, overflowing with dusty bric-a-brac, framed portraits, jugs and vases of all sizes, bottles of odd coloured liquids… One can't imagine how much of this bizarre flotsam ended up behind the bar of a pub in Dublin. Beer-wise, I've opted for a popular German Weißbier (wheat beer) with a cloudy, golden disposition, served in a long glass. I only manage to drink half of it as I've never been much of a Weißbier man. I like ales, which leads me to my one big gripe about Dublin pubs: the lack of variety in the ale department. Smithwicks, to me, tastes like mildly flavoured water. It has no body and the head disintegrates within seconds. That's pretty much your ale option in 90% of pubs and bars. I like Guinness but (a) it's hard to find a good pint and, (b) I can only drink a limited amount of it because it turns my feces black. The other domineering brands in Dublin are draught lagers such as Heineken, Carlsberg, and Budweiser, bottled lager (Sol, Corona, Miller, etc), and Bulmers cider. Still, Toner's can't be faulted for ambience. The wooden drawers lined up the walls to the ceiling and the amazing authentic flagstone floor remind us that this 200-year-old establishment harks back to the days when pubs doubled as grocery shops. Toner's is also purportedly the only pub W. B. Yeats ever had a drink in. Legend has it that the great writer entered the pub in the company of renowned surgeon, poet and all-round wit, Oliver Joseph St John Gogarty, sipped on a sherry for a short while, before declaring that the Irish pub wasn't for him!
Anyway, it's time to leave behind this part of town and head nearer to the Grafton Street area where a very special little drinking den frozen in time awaits us. Step into Grogan's pub on South William Street and you are stepping into a timeless shrine to 70s Dublin, unaffected by and unconcerned with the outside world. It is a haven for students, musicians, debaters, underachieving poets, Joycean dreamers and fledging painters, whose work garishly splatters the walls. The same barmen have been pulling the pints since I first walked into this establishment some fifteen years ago. This truly is a national treasure and a portal of sanctuary. Makeshift canopies hang from the walls outside. Since the smoking ban of March 2004, pubs had to create a space to accommodate clientele who wished to smoke for fear that they would abandon pub life and stay at home. For pubs such as Grogan's and the majority of the pubs we visit tonight, the smoking area is simply the street outside. Already, this has spawned a new form of social environment where like-minded people can offer each other lights and strike up conversation.
On the other side of Grafton Street, tucked in off Dublin's central shopping district on South Anne Street, we pay a visit to Kehoe's, a beautiful old pub full nooks and crannies, oddly shaped doorways, secret rooms, winding staircases and a fine snug at the top of the house. Given its location, Kehoe's is normally full of suits, rugby-shirted D4 types, ladies with Brown Thomas shopping bags and students from the nearby Trinity College. The owner, John Kehoe, lived upstairs until his death a couple of years ago (reputedly the last resident publicans in the city centre), and now you can drink in his unchanged living room daily after 4:30pm. The pub is made up of carved turrets, painted wallpapered ceilings and endless framed portraits of Sean O'Casey, Brendan Behan, James Joyce, George Bernard Shaw and the like. Joyce himself regularly frequented this labyrinthine treasure. We're drinking pints of Heineken and Guinness and I somehow have ended up with a Heineken Shandy, which is disgusting.
It's time to head to another part of town. The Wexford Street and Camden Street strip is a focal point of the late-night live music scene, a place we find ourselves being on or thinking about at least once a day. The Whelan's venue acts as a sort of hub, around which several excellent pubs take up the slack. Anseo (Irish for 'here') is styled on a New York dive bar. A relaxed atmosphere, inexpensive furnishings, walls full of posters, good music and late-night DJs most nights of the week, the occasional gig upstairs, ramshackle toilets, good beer, and friendly bar staff are hallmarks of this pub. It's a young, hip crowd and we all love this place. Eddy, the manager, runs a good shop. MF Doom plays on the stereo. Bottles of Moretti Italian beer slide down nicely. Goodtime opts for the Smithwicks. There's no toilet seat or paper, but who cares, tonight is for drinking. Tomorrow we can discharge.
Across the street is another of my favourite pubs, Devitt's. Although there might be some crossover in clientele, this is more of a local, inner city custom, or what us (vaguely) young people call an "aul' fellas pub" (some day we will realise we are the aul' fellas!). Devitt's serves excellent pints of Guinness. It also serves, to my delight, bottles of McCardle's ale, a tasty reddish-brown ale brewed here in Ireland in the city of Dundalk and available only in select pubs. I also recommend Guinness drinkers try the bottled variety too. Take it from the shelf (rather than the fridge) and you will find it's a completely different drink, a more accentuated yeast flavour with a rich creamy head. Devitt's is a place to watch sport, GAA in particular, but it usually screens big soccer matches, fights, horseracing, cricket, whatever. At the back of the room, attached to the wall, is a cabinet full of porcelain GAA figurines with the colours of every county in Ireland. It's one of my favourite things in all of Dublin.
That's about as much as one can fit into one night in Dublin. On any other night we might find ourselves revaluing the Guinness in Mulligan's, squeezing into the Dawson Lounge (the smallest pub in Dublin!), mingling with the old theatrical ghosts in Neary's, or simply talking the talk in any of the other real Dublin pubs like The Long Hall, The Welcome Inn, The Stag's Head, McConnell's, The Sackville Lounge or The Lord Edward. Chin, chin.
O'Donoghue's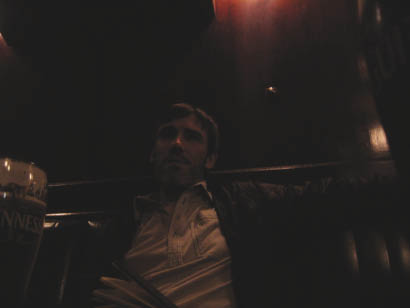 Leagues O'Toole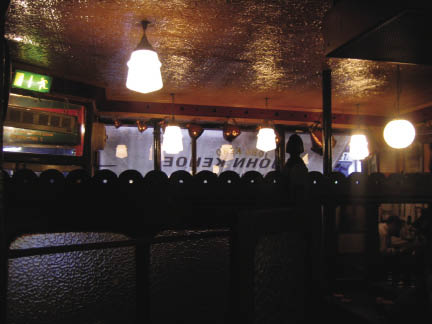 Kehoe's
Kehoe's
Kehoe's
The writers of Kehoe's
Anseo
Grogan's
Toner's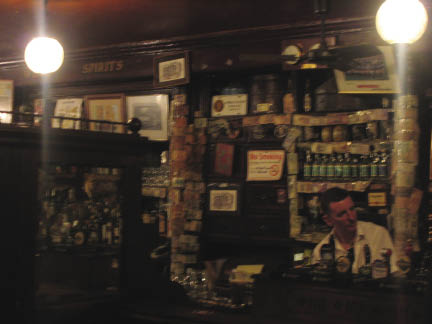 Toner's